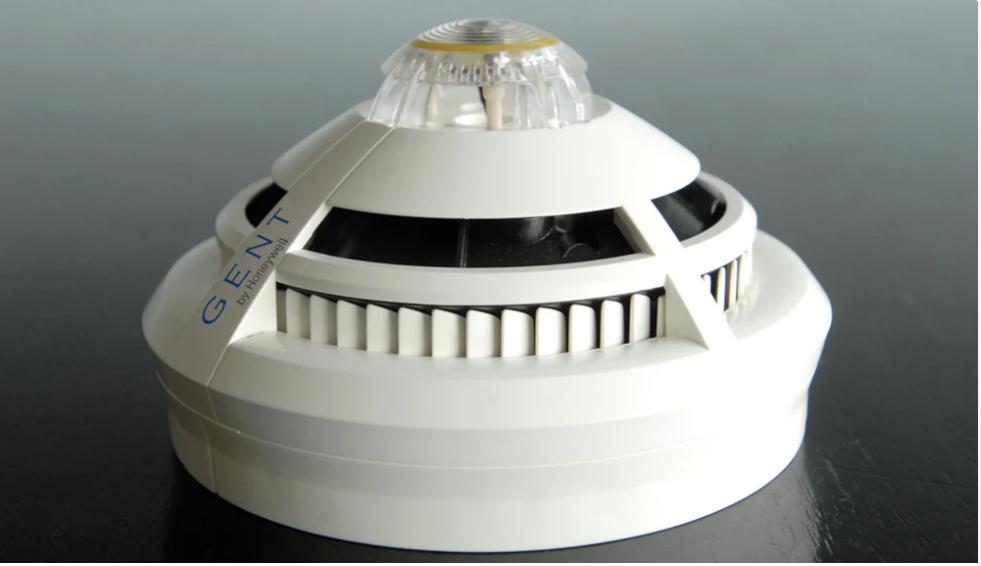 Here at fire trade supplies we supply a wide range of Gent By Honeywell S-Quad Detectors
The Gent by Honeywell S-Quad range of fire alarm detectors and combined detectors and sounders has been around for some years now but the range remains hard to beat. 
Gent by Honeywell have created a range which offers truly intelligent analogue sensors combining local processing in the detector and the Gent Vigilon fire alarm panel to minimise the risk of false alarms whilst achieving an immediate response to real fires. Guaranteeing the end user with highly engineered fire safety. The Gent by Honeywell S-Quad provides a comprehensive range combining sensor, sounder and voice in one multifunctional device. 
The S-Quad is a complete range of sensors with combinations of advanced sensing technologies including heat, dual angle optical scatter and carbon monoxide (CO). 
Options include combined sensing of carbon monoxide with dual angle optical scatter and heat allowing a higher level of false alarm immunity in presence of steam and while still maintaining the integrity of detecting fires. 
Each Gent S-Quad sensor has certified sensitivity settings that suit certain environments and applications which may be programmed for different times of the day if required using the functionality of the Gent Vigilon fire alarm panel. 
Like all Honeywell Gent addressable fire alarm devices, the Gent S-Quad range has a short circuit isolator in each device, a feature which has for a long time been a significant benefit of using Gent Fire Alarms. 
The Gent S-Quad detectors have configurable input/output connections for remote indicator or supervisory input fully synchronised sound patterns via the control panel. 
The Gent by Honeywell S-Quad sensor sounders have adjustable sound level and tones to match system sounders. Sounder element monitoring and over-load protection ensures operation
even in event of cable fault. Sound output is synchronised and compatible with the Gent S‑Quad range of EN54‑23 VADs. 
Key Features
Gent by honeywell S-Quad Sensor and alarm in one device reduces installation time and cost. Built-in high intensity VAD helps alert occupants in noisy environments as well as the hard of hearing
Meets all the requirements of the Equality Act 2010
Compatible with the Gent S­-Cubed wall mounted VAD
State of the art, high efficiency visual alarm technology
Advanced power management that increases loop capacity and integrity
Range of devices and power settings to suit widest range of building applications
Light output that allows devices to be sited at standard smoke and heat detector spacings
Synchronised flash rate across the whole control panel avoiding risk of induced seizures
VAD can operate independently of the sounder if required
Meets the requirements of BS5839 part 1 relating to sensitivity to epilepsy
Honeywell Gent S-Quad Sensor and Sensor Sounder Data Sheet
Honeywell Gent S-Quad Multi-Sensor with Integrated Sounder and Visual Alarms Device (VAD) Data Sheet
Get in touch with our expert sales team for any queries or questions regarding the Gent by Honeywell fire detection range - sales@firetradesupplies.com 
Part codes table: 
| | |
| --- | --- |
|  Part Code | Product Description |
| S4-700 | Gent S-Quad Sensor Base (White) |
| S4-720 | Gent S-Quad Heat Sensor (White) |
| S4-715 | Gent S-Quad Optical Sensor (White) |
| S4-710 | Gent S-Quad Optical Heat Sensor (White) |
| S4-711 | Gent S-Quad Dual Optical Heat Sensor (White) |
| S4-901 | Gent S-Quad Dual Optical Heat and Carbon Monoxide Sensor (White) |
| S4-780-S | Gent S-Quad Heat Sensor Sounder (White) |
| S4-770-S | Gent S-Quad Optical Heat Sensor Sounder (White) |
| S4-771-S | Gent S-Quad Dual Optical Heat Sensor Sounder (White) |
| S4-711-V | Gent S-Quad Dual Optical Heat Voice Sensor Sounder (White) |
| S4-711-VAD-HPW | Gent S-Quad O2H Sensor - White VAD |
| S4-711-V-VAD-HPW | Gent S-Quad O2H Voice Sensor Sounder - White VAD |
| S4-720-V-VAD-HPW | Gent S-Quad Heat Voice Sensor Sounder - White VAD |
| S4-911-V-VAD-HPW | Gent S-Quad O2HCO Voice Sensor Sounder - White VAD |
| S4-711-VAD-HPR | Gent S-Quad O2H Sensor Red VAD |
| S4-711-V-VAD-HPR | Gent S-Quad O2H Voice Sensor Sounder - Red VAD |
| S4-720-V-VAD-HPR | Gent S-Quad Heat Voice Sensor Sounder - Red VAD |
| S4-911-V-VAD-HPR | Gent S-Quad O2HCO Voice Sensor Sounder - Red VAD |
| S4-711-V-VAD-LPW | Gent S-Quad Dual Optical Heat Sensor Voice Sounder Standard Power - White VAD |
| S4-711-V-VAD-LPR | Gent S-Quad Dual Optical Heat Sensor Voice Sounder Standard Power - Red VAD |